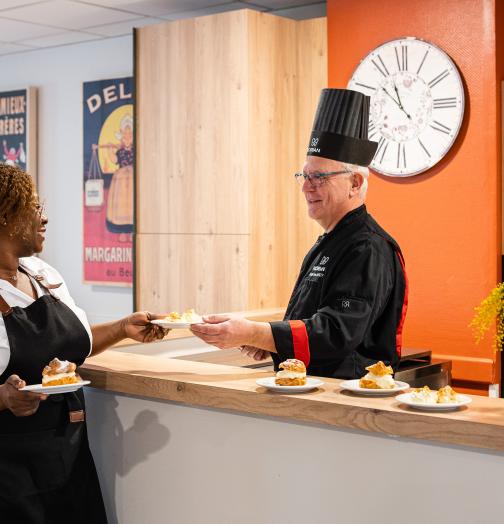 Training is a key factor in attractiveness, skills development, inclusion and career advancement for Clariane's human resources in Europe.
The Group has therefore been committed to training since 2002, with the creation of its first internal academy, as part of an innovative approach to building skills. This training dynamic is fundamental for supporting the professional development of employees, ensuring the quality of care, being able to meet the evolving needs and address the multiple diseases of patients and residents, and thus contributing to the development of the Group's activities.
Initial training, qualifying career paths, apprenticeship contracts, university diplomas, continuing and agile training sessions, access to apprenticeship for employees – Clariane deploys a comprehensive range of solutions tailored to the countries where the Group is established, allowing each individual to progress and evolve.
12

%

of employees, i.e. nearly 7000 people, benefited from qualifying training courses in 2022

3000

apprentices in Europe in 2022

50

%

of the Group's recruitment needs met by its own academies by the end of 20231
Clariane University
The development of training is a pillar of our human resources policy to address the recruitment challenges in the health and care sector. It is part of the Group's commitment to promote professional social advancement as well as a major component of Clariane's attractiveness as an employer.
In this regard, the Group launched its new corporate university, Clariane University, on July 6, 2023. It brings together all the training courses to its employees, both in-house and with partner schools and institutes. Clariane University is the first initiative to put into practice the transformation of Clariane into a company with a mission, as adopted by it.
Initially operational in France, it will then be rolled out in all the Group's other countries, with the aim of offering at least 6,500 degree courses each year in the Group's main business lines (care, hospitality and management).
In France, Clariane University has three academies corresponding to the Group's three main areas of business expertise:
Health and Care
Catering, Hospitality and Services
Management and Leadership
By 2024, 3,000 degree courses will be available throughout France, thanks to Clariane's network of in-house and external training organisations and its various partner schools and universities, which include almost all medical universities, numerous nursing training institutes (IFSIs), schools specialising in paramedical professions, regional nursing aid training institutes (IFAS), partners in apprenticeships (CFA) and initial training, schools and CFA specialising in accommodation and catering, and establishments specialising in management and support functions.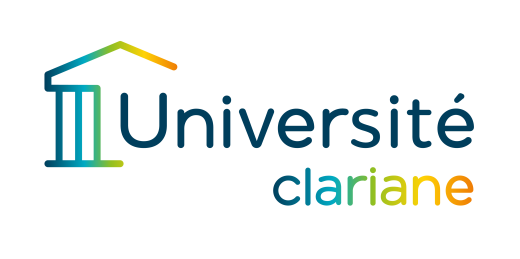 Clariane University aims to encourage promotion through training and education for all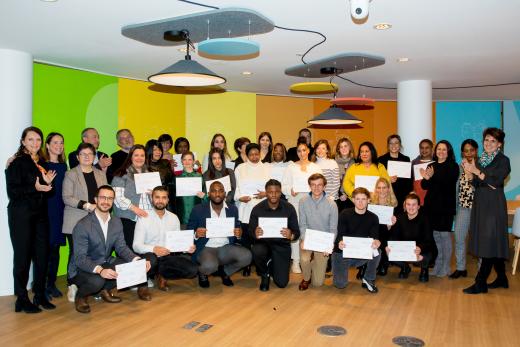 Validation of prior learning (VAE): a formidable tool for recognition and progress
For employees with skills acquired in the field, the validation of prior experience (VAE scheme) is a highly effective lever for development and integration. VAE in France, and equivalent schemes in the Group's other countries, provide a way to formalise acquired knowledge and develop new professional skills; they build employee loyalty and open up prospects within the company. The aim is to gain access to a higher qualification, e.g. move up from hospital service worker to healthcare assistant, by demonstrating one's skills and abilities acquired through experience.
In France: the Group initiated its first VAE projects in 2014 and by the end of 2022, nearly 1000 Clariane employees had benefited from this scheme. Since September 2022, Clariane has opened up access to the VAE scheme to employees on fixed-term contracts.
In Germany, the equivalent of VAE, called Wegebau, which is part of the Federal Employment Agency, allows for the same type of qualifying pathway.
In Belgium, "Project 600" also provides continuing education for employees who are looking to orient their career towards the care sector. In 2022, 146 employees were involved in this programme.
Apprenticeship: the surest way to successfully integrate into the sector and Group
Convinced that apprenticeship is an effective lever for acquiring and developing skills in initial training while guaranteeing successful integration, Clariane is innovating by opening up apprenticeship to its least qualified employees, on permanent and fixed-term contracts. Employees thus attend a training course at the Clariane apprenticeship training centre (CFA) for care occupations while retaining their remuneration; their increased skills then enable them to progress within the company.
Clariane increased the number of its apprentices in France by a factor of 10 between 2017 and 2021. At the end of 2022, the Group had 2723 apprentices, including 992 in France.
In 2022, Clariane recruited 992 apprentices (in France), including 700 healthcare assistant apprentices.
In 2021, 716 apprentices were recruited, including 382 healthcare assistants and 80 cooks. This represented an increase of 83% within one year.
In 2020, Clariane created the CFA for care occupations with 130 apprentices recruited from 2021.
In 2020, Clariane created the CFA for Chefs, in partnership with Sodexo, Accor, Accor Invest et Adecco.
o Professional retraining: discovery of care occupations for a new professional project
In France, Clariane is actively participating in the "Passerelles de Reconversion Professionnelle" initiative launched in April 2021 by the French government. This approach provides for the hosting and training of employees from the service sector in the second half of their career who are looking to retrain for a new career in the care sector. Thanks to a 14-month qualifying training course in a Clariane facility, 45 employees from Derichebourg and Monoprix took part in a dedicated immersive training course leading to a healthcare assistant diploma in 2021. They have been recruited on permanent contracts.
In Italy, the Group also offers retraining courses to become a healthcare assistant (Operatore Socio Sanitario (OSS), in collaboration with Adecco in the Milan region and in conjunction with the Di.Re reintegration association, a long-standing partner of Clariane. Some of the open positions are reserved for women who have been victims of domestic violence. After a great deal of preparation and digital and teaching innovation, the Group's first healthcare assistant classes of approximately 20 students were opened in December 2021.
Also read
Trust, Responsibility, Initiative: our three values are at the heart of our commitment and guide our actions on a daily basis.

With 70,000 employees in seven European countries and 700 living areas, Clariane is one of the largest communities of healthcare professionals in Europe.

Clariane is a leading employer with a community of over 67,000 care and healthcare professionals working in the seven European countries where the Group operates.