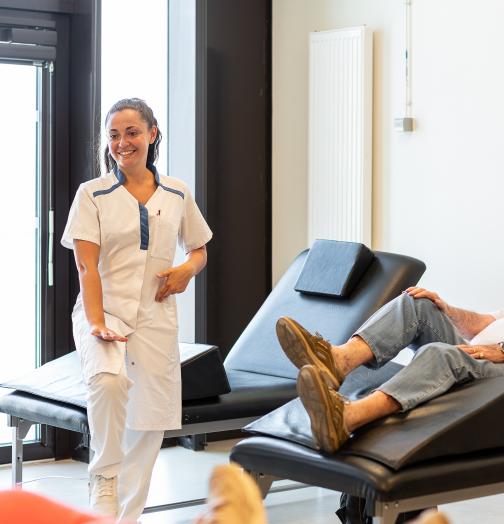 Clariane is a leading employer with a community of over 67,000 care and healthcare professionals working in the seven European countries where the Group operates. Joining the Clariane team means being part of this community of professionals in meaningful and future-oriented care and healthcare occupations who are committed to supporting more than 810,000 patients and residents.
Joining the Clariane team also means working and advancing within Europe's leading care and healthcare group supporting vulnerable individuals. It is an attentive and active group that promotes the integration, continuing training, and development of its employees. Quality of life at work and the attention paid to each individual's health, professional equality and respect for diversity are what make Clariane a reference employer.
82

%

of employees say they are proud to work for Clariane

84

%

of Clariane employees say they are satisfied with their job

74

%

of Clariane employees believe they have a good work/life balance

78

%

of Clariane employees say they are committed to their work*
Pulse Kommunity survey conducted by IPSOS in December 2022 among 36,239 employees of the Clariane group in Europe.

* up one point versus the value expressed in 2021 despite a sector undergoing a crisis of confidence.
Clariane: 2023 TOP EMPLOYER certified in France, Germany, Italy and Belgium
Clariane was the first player in the medical and social sector to be awarded the "Top Employer" label in Germany and France, for the first time in 2022. Italy and Belgium have also become Top Employers in 2023, joining Germany and France, whose Top Employer certification has been renewed. This honour is awarded by Top Employers Institute, an international body that has been certifying excellence in HR practices for over 30 years and has certified over 1857 organisations in 123 countries. The comprehensive audit that preceded this certification covered 400 HR practices.
Clariane has 60,000 employees and 7,000 independent or franchised professionals working in home help for frail people, for example in the Petits-fils network or in ambulatory paramedical care.
Also read
Clariane has three complementary areas of activity: care homes, healthcare facilities and services, and alternative living solutions.

With 70,000 employees in seven European countries and 700 living areas, Clariane is one of the largest communities of healthcare professionals in Europe.

Training is a key factor in attractiveness, skills development, inclusion and career advancement for Clariane's human resources in Europe.