Ethics, Compliance & GDPR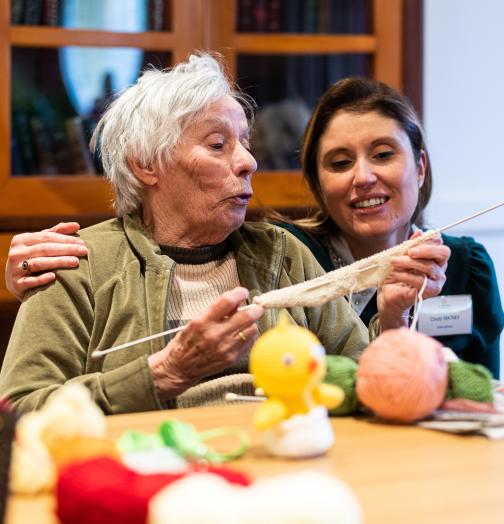 The Clariane Group promotes a culture of integrity by complying with current regulations and ethical obligations and fulfilling the commitments it makes. These commitments, which all employees must abide by, are expressed in the establishment of an ethical corporate culture and the implementation of a compliance programme.
Our ethical commitments
Our values
Fully dedicated to the mission of taking care of each person's humanity in times of vulnerability, Clariane is committed to promoting a corporate culture shaped by three core values: Trust, Responsibility and Initiative.

These three inextricable values guide all of our actions and attitudes on a daily basis, whatever the specific role within Clariane and its community. They are essential to the quality of our work and the commitments we make to all our stakeholders.
Our charter and commitments
Grounded in its three core values, the Clariane Group is committed to ensuring that everyone's actions are carried out ethically and with integrity.
These values and this ethical approach are set out in our Ethics Charter, whose 9 commitments are designed to guide the behaviour of our employees.
The Ethics Charter was drawn up with representatives from the Group's various business lines, activities, and countries, as well as executive functions, to take into account the fully range of operational situations that may be encountered. It is addressed to all Group employees, who have a duty to implement it in their professional practices and behaviour.
In accordance with this Charter, we undertake to act with integrity and transparency towards all stakeholders with whom we have a relationship.
The Clariane Group has set up a whistleblowing system common to all the Group's entities for the purpose of reporting any situation arising at the Clariane Group's establishments or head offices that involves, directly or indirectly, the Clariane Group, its employees or third parties linked to Clariane and which, according to the person making the report, constitutes:
a breach of the Group's internal policies, the Ethics Charter, or regulations in force locally,
a conflict of interest, an act of corruption or influence peddling,
a threat or harm to the general interest, a serious threat to the environment, a serious threat to the health or safety of individuals, or a serious threat to human rights and fundamental freedoms.
The whistleblowing system makes it possible for any employee, as well as every candidate for a position, Clariane Group contractor, shareholder or customer of the Clariane Group and their relatives to submit a query or make a report, in their local language.
This system guarantees the anonymity of the person making the report and confidentiality in the handling of each alert.
Duty of Care Framework
Human Rights Statement Act
Taking human rights into account is an issue that Clariane must address at every level of its business, particularly in its relations with its employees, its residents and patients and their families, and its suppliers, and Clariane takes action to ensure that these rights are respected. Clariane is committed to providing excellent care while guaranteeing dignity, safe working conditions, equal opportunities and respect for the environment. All these values are set out in the Human Rights Statement Act.
Vigilance plan
In accordance with French Law no. 2017-399 of 27 March 2017 on the duty of care owed by parent companies and contracting companies, Clariane is implementing a vigilance plan with respect to business conducted by the Group and all controlled subsidiaries. This vigilance plan sets out the reasonable due diligence measures implemented to identify and prevent any serious violations of human rights and fundamental freedoms, human health and safety or harms to the environment resulting from the activities of the companies that Clariane controls, as well as from the activities of subcontractors or suppliers with whom Clariane has an established commercial relationship. Clariane reports annually on the measures it has put in place and its progress.
Responsible Purchasing Charter
The Clariane Group extends its CSR principles to its entire industrial and commercial ecosystem, particularly in terms of responsible purchasing, via its Responsible Purchasing Charter, which defines the reciprocal social, ethical and environmental commitments between the Group and its suppliers.
Compliance programme
Clariane places utmost importance on preventing and combating all forms of corruption, whether active or passive, private or public, as well as influence peddling.
In order to meet the legal obligations set out in Law 2016-1691 of 9 December 2016, known as the "Sapin 2" law, Clariane has implemented a system to prevent and detect any acts of corruption and influence peddling that may be committed within the Group. This system is described in the Universal Registration Document. The Clariane Group has also set up a whistleblowing system common to all the Group's entities, enabling any employee to ask a question or file a whistleblowing report in his or her local language, particularly in relation to corruption, influence peddling or fraud, or to report any suspected or actual violation of the principles set out in the Code of conduct—Anti-Corruption Guide.
This system guarantees employee anonymity and confidentiality in the handling of each alert.
Data privacy
Clariane's business requires the collection and processing of personal data, some of which is considered sensitive, such as residents' and patients' health data. The Group complies with the provisions of the EU General Data Protection Regulation ("GDPR"), in force since 25 May 2018, as well as all regulations governing the processing of personal data and the processing of health data applicable in our various countries of operation. To this end, Clariane has set up a dedicated organisation, a review process to prevent risks as effectively as possible, and dedicated awareness-raising initiatives for employees, as well as regular audits.
Also read
Trust, Responsibility, Initiative: our three values are at the heart of our commitment and guide our actions on a daily basis.

The Group has set up a dedicated governance structure to define and implement its ESG strategy.

Fifteen non-financial indicators were defined to evaluate the achievement of our ESG objectives by 2023.