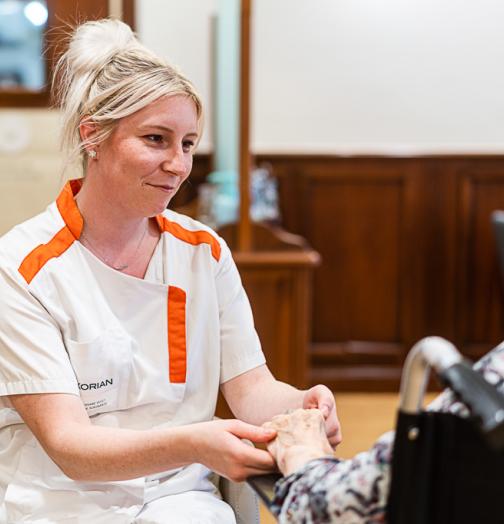 Offering development opportunities for the Group's employees who wish to give a new direction to their career is part of Clariane's social responsibility; it is also essential for pride of belonging and team retention.
Internal social promotion is at the heart of Korian's employer promise
This is why internal social promotion and career development are key components of the Group's HR policy, where everyone can "move up within the company and find out about career and development opportunities", including qualifying courses.
Korus: the sector's first employee shareholding plan
Open to sharing and fairly redistributing the value created with and by its employees, Clariane launched its first employee shareholding plan, "Korus", in 2022. Open to its employees in the Group's seven countries (France, Germany, Italy, Belgium, Spain, the Netherlands and the UK), this plan intends to further strengthen their commitment to the corporate project.
Korus is also the first employee shareholding plan in the sector.
This operation, which aims to provide employees with the opportunity to become shareholders on reserved and secure terms, has been a real success. 9250 employees in Europe have taken part in it, i.e. 15% of the Group's eligible workforce. In France and Italy, Korus has attracted even greater support, with a subscription rate of almost 25%.
Also read
As a leading employer in the care and healthcare sector, Clariane implements an ambitious policy of inclusion and diversity.

The well-being, quality of life and working conditions of Clariane employees are priorities for the Group.

Social dialogue takes place at four levels within the Clariane Group – firstly at local level, then at regional and national levels, and lastly at European level.