World Parkinson's Day: Support and awareness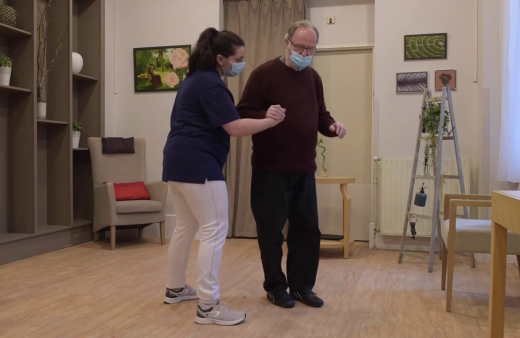 The daily mission of our teams is to support all frailties in old age diseases, such as Parkinson's, by responding in a personalized manner.
Personalized and positive care for Parkinson's disease
Parkinson's disease is a progressive disease that has consequences on the musculoskeletal, cognitive and psychological aspects. Also, its care is the result of multidisciplinary, medical and paramedical work.
Our care professionals carry out a complete geriatric assessment, reassessed regularly for each resident, in order to offer them a personalized therapeutic program.

In our Korian facilities, our teams are trained to support each resident in a personalized way, adapting to their physical, cognitive, cultural, social and emotional skills. We call this unique support philosophy " Positive Care ": it allows us to consider each patient with respect for their choices, their desires but also their preserved abilities. This benevolent approach avoids stressful situations, harmful in Parkinson's disease.
Ep.1 Care of patients with Parkinson's disease
Physical activity adapted to Parkinson's disease
Leisure activities, entertainment, preservation of social ties, our challenge is to provide pleasure and develop a feeling of usefulness and anchoring in daily life. In this context, adapted physical activity workshops are organized in our retirement homes to provide both well-being and work, among other things: muscle strengthening, balance or even maintaining joint range of motion to preserve 'autonomy.

The adapted physical activity educators who work in our nursing homes, as well as the paramedical professionals, allow residents to take part in fun and sports workshops, alone or in groups.

Ep.3 Transfer assistance.