Let's Mobilise for Learning!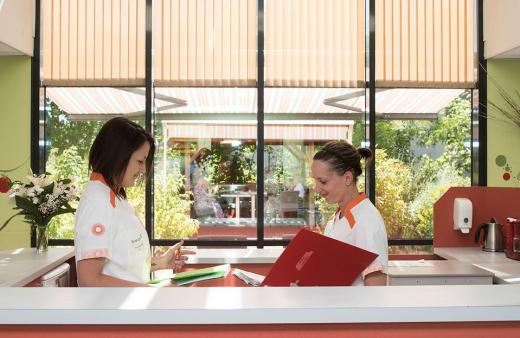 Sophie Boissard, CEO of the Korian Group, signs the newspaper column published in Les Echos on 31 August, alongside a group of 19 other managers in favour of apprenticeship
Together they say, "We need young people, their talents, their convictions, their visions, their energy and their diversity in every sense of the word. We need them to be strong. And if we make them grow, we will make progress together. The best chance we can offer them is to take them on in rotation".
Korian is committed to and participates in La Grande Rentrée de l'apprentissage, a free national digital forum dedicated to work-linked training open to young people of all levels of qualification throughout France. In addition, the Korian team will also be at the Jeunes d'Avenirs trade fair at La Villette in Paris on 15 and 16 September to meet candidates and introduce them to the professions of the future.
Work-study programs: training alongside our professionals
Apprenticeship opens the way to many jobs in facilities: hospital service agent, nursing assistant, cook, executive assistant, support functions, and others. Nearly 2,500 young people joined us in 2019 on apprenticeship and professionalization contracts in all of these professional fields in our nursing homes, clinics and head offices in Europe. Apprenticeship is training close to the ground and an adapted response to companies' needs.
Read the column « Opinion | Des grands patrons prennent position pour l'apprentissage », Les Echos >
The signatories:
Jean-Laurent Bonnafé, Chief Executive Officer of BNP Paribas; Sophie Boissard, Chief Executive Officer of the Korian Group; Christophe Catoir, President France and Northern Europe of The Adecco Group, President of GAN France, the global network for learning; Christophe Cornu, Chairman and CEO of Nestlé France; Philippe Darmayan, President of UIMM; Gaëtan de L'Hermite, President of Compass Group France; Nicolas Dufourcq, CEO of Bpifrance; Jean-Pierre Farandou, CEO of SNCF; Eric Fourel, President of EY France; Antoine Frérot, CEO of Veolia, President of the Institut de l'entreprise ; Olivier Girard, Chairman of Accenture France and Benelux; Pierre Goguet, Chairman of CCI France; Nathalie Jaoui, Chairman of Groupe Crit; Jean-Bernard Lévy, CEO of EDF, Chairman of the Fondation Innovations pour les Apprentissages; Patrick Martin, Deputy Chairman of Medef; Philippe Petitcolin, Chief Executive Officer of Safran; Jean-Philippe Puig, Chief Executive Officer of Groupe Avril; Patrick Pouyanné, Chairman and CEO of Total; Stéphane Roussel, Chief Operating Officer of Vivendi, Chairman of Entreprises pour la Cité; Claire Waysand, Chief Executive Officer of Engie.