Corporate Social Responsibility, Korian committed, mobilised and supportive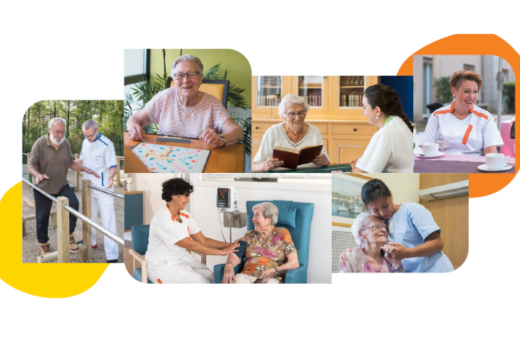 Korian presents its CSR (Corporate Social Responsibility) commitments. To define them, our Group has been listening to its stakeholders since 2017, especially this year in the context of the Covid vigilance plan and the epidemic crisis. Together, we have identified two challenges to be met: supporting the demographic transition and building an ecologically sustainable development model. Beyond that, our commitments also meet other sustainable development objectives, such as promoting health and well-being in the workplace, strengthening scientific research as well as public and private innovation, and sustainable urbanisation.
Our CSR strategy, thus aligned with the interests of all our stakeholders, is based on our values (benevolence, responsibility, initiative and transparency) and is integrated into the five dimensions of our corporate project "In Caring Hands".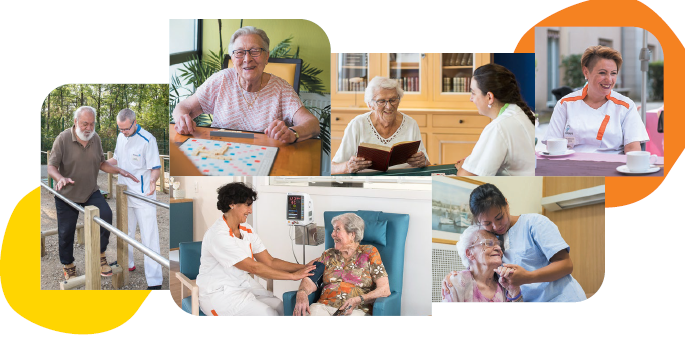 Pillar 1: Guaranteeing freedom of choice for those we care for and for carers
To contribute to our patients', residents' and clients' free choice, Korian is committed to:
• supporting patients' and residents' autonomy, and consequently their ability to make decisions, through its Positive Care approach initiated in France and Italy, by deploying it in 100% of establishments by 2023 (commitment 1), Discover all the Positive Care actions in our facilities.
• guaranteeing impeccable quality at all its sites, with 100% of its establishments ISO-certified by 2023 (commitment 2)
• deploying mediators and charters of commitments in all institutions by 2023 (commitment 3).
Pillar 2: Caring about the carers
"Caring for those who care" is our priority, in order to enhance the quality of work for the 56,000 employees and to guarantee permanent quality of care.
This means first and foremost strengthening the social contract between Korian and our teams by ensuring a safe and healthy working environment, reducing work-related accidents and associated absenteeism, helping to strengthen permanent employment through better work organisation, better planning of needs and reduced turnover throughout Europe, and investing in its site managers and teams, the cornerstone of the network. Hence three concrete commitments:
• maintaining or improving employees' seniority average, currently 6 years (commitment 4),
• investing in skills training, which will affect 8% of employees by 2023 (commitment 5); meeting this commitment means doubling the number of employees in a skills training programme compared to 2018,
• ensuring diversity at all levels of the organisation. Fifteenth (15th) on the latest list of Women in the Top 120 Largest French Companies, up 4 places from 2018, we aim to increase the number of women in top management by 10%, i.e. 50% by 2023 (commitment 6). Discover the 7th edition of the SBF120's "Palmarès de la feminisation des instances dirigeantes des entreprises". (Prize awarded by French stock market index SBF 120 in recognition of women in corporate leadership positions).
Pillar 3: Contributing positively and proactively to the longevity society
The Group is mobilising its expertise in the field of care for the elderly and frail, along with its networks and partners, as well as significant resources, in order to make a positive contribution to sustainable solutions and an optimized care offer.
Three commitments are a concrete expression of this contribution:
• allocating at least 1% of annual net income to research and philanthropic actions (commitment 7); we have already fulfilled this commitment in 2019 in France, notably through endowments to the Foundation; in addition, as part of the Covid vigilance plan, we have decided to create a 1 million Euro Covid solidarity fund;
• supporting at least 5 research studies per year leading to publication, notably through our network of Foundations (commitment 8),
• Establishing a Stakeholder Council in each country beyond France by 2023 (Commitment 9). Discover the studies of the Korian Foundation for Ageing Well.
Pillar 4: Being a committed local actor in the regions
Located in the heart of where people live, with a very dense network in both rural and urban areas, we contribute to the vitality of the regions. We are committed to further strengthening and broadening this societal integration by committing ourselves to:
• purchasing at least 70% of products and services within the countries in which we operate and at least 20% from SMEs (commitment 10),
• ensuring that 100% of sites are engaged in an association- or community-based project (commitment 11),
• establishing a Social Life Council at 100% of the sites (commitment 12).
Pillar 5: Reducing our carbon footprint
Present on more than 890 sites in Europe, Korian works to optimise energy and water consumption and waste management in our buildings and properties in order to limit our environmental impact.
Based on the carbon footprint established in 2019, we have set ourselves the ambitious goal of reducing our greenhouse gas emissions by 40% by 2030. To achieve this goal, we are focusing on two main levers: optimising the energy consumption of our buildings and controlling waste production, in a step-by-step approach.
This translates into three commitments:
• A 3% reduction in energy consumption by 2020 (commitment 13),
• 5% reduction in the volume of waste produced by 2023 (Commitment 14),
• 100% of new buildings certified HQE or equivalent from 2020 (commitment 15). To find out more, discover the "Real estate for health and well-being" dossier.
To read or download the "CSR Booklet - Korian", click the image